Regarded as a 'PLP safe seat,' the PLP have recorded strong victories in Pembroke East Central, winning the seat in all 4 General Elections since the single seat system started in 2003 with an average of 89.26% of the vote.
The seat is currently held by the PLP's Michael Weeks, who won it with 93.39% of the vote in the 2017 General Election, marking the highest winning percentage of all 36 constituencies.
And as there are no other candidates for C16 in 2020, Mr Weeks has won the election in this area.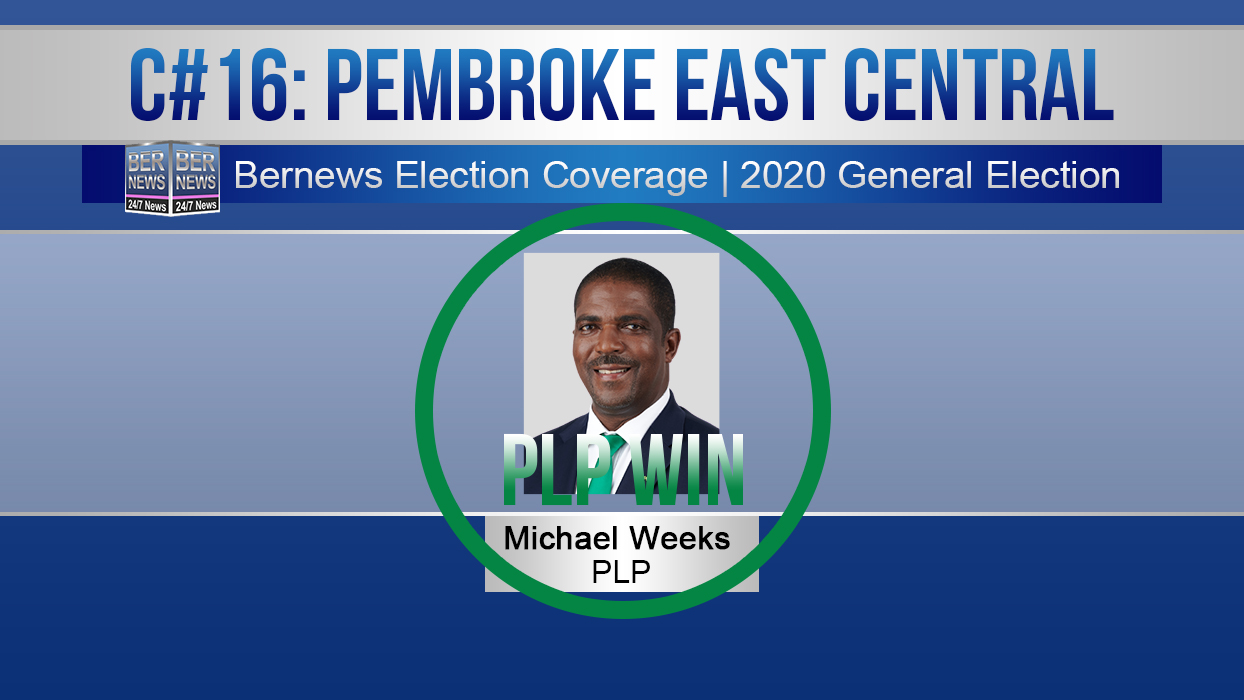 Incumbent: Michael Weeks [PLP]
PLP's 2020 Candidate – Michael Weeks – winner
OBA's 2020 Candidate – No OBA candidate
FDM's 2020 Candidate – No FDM candidate
The Constituency Boundaries Report [PDF] states: "Constituency #16 Pembroke East Central shall be all that land contained within a line drawn from the junction of Perimeter Lane with Marsh Folly Road; thence East along the centreline of Marsh Folly Road to the junction of Marsh Folly Road and the Eastern boundary of the Government House property; thence North along the Eastern boundary of the Government House property to its junction with North Shore Road; thence North to a point on the coastline; thence East along the coastline to a point on the coastline North of the junction of North Shore Road and Band Room Lane; thence South to the junction of North Shore Road and Band Room Lane; thence West along the centreline of North Shore Road to the junction with Crane Lane; thence South along the centreline of Crane Lane to the junction with Footpath Lane; thence East along the centreline of Footpath Lane to the junction with Mission Lane; thence South along the centreline of Mission Lane to the junction with the unnamed road at St. Monica's Church; thence South along the unnamed road to St. Monica's Road; thence West along St. Monica's Road to the junction with Marsh Folly Road; thence South along the centreline of Marsh Folly Road to the junction with Palmetto Road; thence East along Palmetto Road to the junction with Border Lane North; thence South along the centreline of Border Lane North to the junction with Friswells Road; thence South along the centreline of Friswells Road to the junction with Border Lane South; thence South along the centreline of Border Lane South to the junction with Parsons Road; thence West along the centreline of Parsons Road to the junction with Deepdale Road West; thence South along the centreline of Deepdale Road West to the junction with Happy Valley Road; thence West along the centreline of Happy Valley Road to the junction with Happy Valley Lane; thence West along Happy Valley Lane to the junction with Tribe Road No.1; thence North along Tribe Road No.1 to the junction with Curving Avenue; thence North along the centreline of Curving Avenue to the junction with St. Augustine Road; thence North along the centreline of St. Augustine Road to the junction with Parsons Road; thence East along the centreline of Parsons Road to the junction with The Glebe Road; thence North along the centreline of The Glebe Road to the junction with Perimeter Lane; thence West along the centreline of Perimeter Lane to the junction with Marsh Folly Road."